The Impact of Chemical Abortion:

50%
of America's abortions are committed with Chemical Abortion Pills, sending chemically-tainted human remains, tissue, and potent chemicals into our wastewater system.

500%
increase in abortion-related ER visits with the growing use of Chemical Abortion Pills.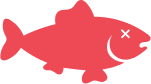 0%
of our water has been tested for the impact of Chemical Abortion Pills which studies show negatively affect aquatic life, land animals & humans.
It came out in a sack, with all the limbs and eyes…heart still beating. If I knew that would be the outcome, I would've never done it.
So, I took a medication abortion. I later found out it was incomplete after a month later when I was in a psychiatric hospital for a severe depression episode related to the abortion.
I feel like I miss my unborn child and have made a huge mistake, I feel empty and like I've lost a part of myself.